How to batch convert Cannon CR2 to JPG format?
You have taken a lot of photos with your Cannon digital camera, but find the output images are of RAW format. CR2 files, which is one of extension of Cannon's RAW image format, one RAW image file can keep all original data untouched, so it is an ideal format for professional photographers or photography fans. However, If you don't have special CR2 viewer, you can't open or view a CR2 image. and it cannot be used for the web and cannot even be displayed on the computer screen. Many times, we have to import photos from our camera into our computer before sharing with our friends or uploading to Internet. For this purpose, you need to convert your RAW images to a common format before sharing, so that everyone could see it. JPG is the most commonly used image format suitable for the web. Here I will give an introduction on how to convert Cannon CR2 images to JPG format on Mac with ease.
How to convert CR2 to JPG format? Here is a detailed image conversion tutorial for anyone in need.
There are numerous image processing tools on the Internet. The one fits you the best is the one that can satisfy your need. iWinSoft Image Converter is an easy to use image conversion software, It supports multiple formats including TIFF, JPEG, PSD, RAW (CRW, CR2, NEF, PEF, RAF, X3F, ORF, MRW), PNG, BMP, PSD and TGA. It's easy and fast.
Click here to download the trial version and follow the steps below.
Below are the simple three steps to show you how to batch convert CR2 (Canon RAW image) to JPG format with iWinSoft Image Converter?
Step 1: Download and install iWinSoft Image Converter:
The software is very easy to download, install and launch, and you don't need to be an IT specialist in order to understand in a few minutes how it works.
Step 2: Select JPG as target output format and click "Gear" icon to choose a destination folder. or you could save your JPG images in the original folder by checking Use same as source.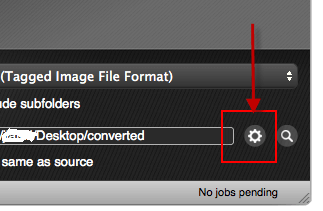 Step 3: Drag and drop the CR2 images or the whole folder containing the CR2 images directly into the Image Converter window.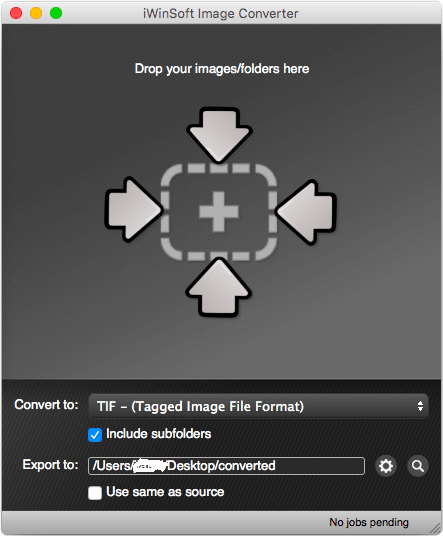 In case you convert just a few or dozens images, just go to check the destination folder directly to check the exported JPG files. If there are hundreds of CR2 images need to be converted, you will need to wait a moment for the conversion finished.
Hot Articles:
1.
How to Convert EPS to JPG image format on Mac?
2.
How to Convert DNG to JPG image format on Mac?
3.
How to Convert NEF to JPG format on Mac?