Business Card and Label Maker Pro
Design you own professional labels and cards in just minutes!
Business Card and Label Maker Pro, is an extremely powerful label creation program that helps you with all your label and card making needs. yet easy to use. With Business Card and Label Maker Pro you will soon be designing and printing professional business cards, address labels, mailing labels, shipping labels, letterheads, Form Letters, File Folder Labels, Tickets, Inventory Tags, Video Tape Labels, postcards, ID cards, name badges, signs, envelopes and virtually any other type of label or card.
This Label Maker software is integrated with a powerful mailing databases, barcode generator and mail merge capabilities, You can select from many pre-defined label templates, or specify your own layout to create custom labels for any purpose. This is perfectly suited for home and business printing.
Free Download for Windows to have a wonderful experience right now!
Note: If you are using Mac OS, please go to Label Maker Professional for Mac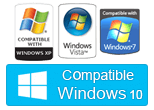 Note: For correct working on Windows 10 / 8 / 7 and Vista, Please either start the product using right clicking on the product icon, and selecting Right as Administrator menu item, or just download and install the Vista patch.